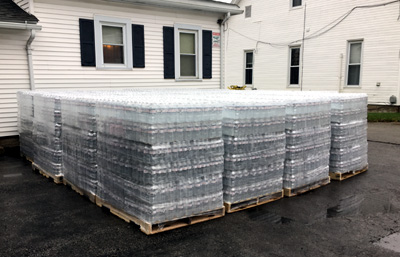 Stock up on Chrisman H20 Bottled water.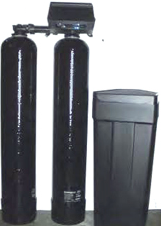 Twin Tank Demand Water Softeners Rent for $29.95 / Month!
Alternating twin tank design allows for a continuous supply of softened water. One tank provides soft water until the meter signals a change. Then the control shifts. The alternate stand by tank is put into service. The exhausted tank is regenerated and returns to the standby position.
Metered-initiated regeneration is a water meter mounted on the outlet of a softener that measures a pre-set number of gallons and initates softener regeneration. Salt expense is minimized.
Positive motor-driven regeneration valve has motor driven pistons that are reliable under severe water conidtions, resist dirt, iron, turbidity. All brass construction.
Softening media with high quality resin provides stability and uniform size for top performance and long life.
Automatic brine control automatically controls the correct amount of brine. A single turn of the dial sets correct amount dosage and capacity – just set it and forget it.
Dubl-Safe brine system features positive brine overfill protection. Automatic refill control is backed up by shut-off float valve to minimize chance of overflow.
Large salt storage container has a capacity for five or more regenerations between refills. Can be located up to 30 feet (9 meters) from softener. Salt bed plate supports salt and allows insoluble matter to settle out, preventing clogging of brine system.
Rent for only $29.95 a month
Chrisman H2O Video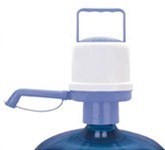 Back in stock! Manual water pumps for 3 and 5 gallon bottled water.
Just $l4.95 but for a limited time only $9.95 with coupon!
Designed for everyday use
Easily attaches to bottle in one motion
No collars to tighten
Includes adaptable tube system for 3 to 5 Gallon bottles
12 Individually packages pumps per case
Cost Effective/ Increased Sales
SALT ALARM Never Run Out Again!
Makes a Great Gift!
Revere Wireless Low Salt Alarm
Regular Price $149 Now Only $99
The Revere wireless low salt alarm is the convenient, simple and affordable way to ensure you'll never be surprised by hard water again—protecting your skin, hair, clothes and appliances. It installs in minutes on nearly any softener brine tank, provides the most accurate salt level indication on the market, and—most importantly—notifies you almost anywhere in your home when it's time to add salt, with plenty of time to spare!
 Features
Easy to install
Works with most softening systems
Alerts you almost anywhere in your home